Hydraulic Product Supply and Repair Work for WestConnex
Posted on 22-January-2018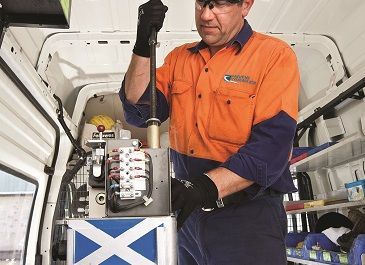 The WestConnex is a new motorway currently under construction in Sydney designed to provide 33 kilometres of motorway to link western and south-western Sydney with the city, Kingsford Smith Airport and the Port Botany precincts. It involves widening and extending the M4 Western Motorway, adding a new section for the M5 South Western Motorway, and a new inner western bypass of the Sydney CBD connecting the M4 and M5.
The joint venture company CPB Samsung John Holland was awarded the contract to complete the WestConnex M4 East Motorway from Haberfield to North Strathfield which required a 5.5 kilometre long three lane tunnel.
As part of these works, Pacific Hydraulics was contracted by CPB Samsung John Holland to repair and supply numerous hydraulic units on their tunnelling machines.
Some of the supply and repair work conducted by Pacific Hydraulics included:
A strip and assessment of a non-functioning Danfoss 90 series motor used for one of CPB Samsung John Holland's tunnelling machines. Once stripped by a Pacific Hydraulics service technician it was deemed to be not economical to repair and overhaul.
After liaising with the customer at John Holland it was decided that the best course of action was to purchase a new unit from Danfoss which was then tested to operating specifications using our in-house testing capabilities. The motor was set to the required operating specifications and delivered to the customer with a spare seal kit.
CPB Samsung John Holland looked to Pacific Hydraulics due to our proven fast turnaround on hydraulic product supply and repairs. As this was a large project time was of the essence and a fast turnaround was required. 
Precision Hydraulic Testing
Accurate testing and diagnosis is paramount to effective hydraulic repair or components and systems. Pacific Hydraulics can rigorously test open or closed-loop pumps, motors, cylinders and other components with our state of the art testing equipment and facilities.
Our accurate diagnostic equipment combined with our strong repair capabilities means we can repair more, and replace less, potentially saving you time and money.
Our hydraulic testing capabilities include, but are not limited to:
Open and Closed Loop Test Rigs Capable of up to 225 kW
Pressure and Flow Electronic Diagnostic Equipment, Providing Computer Generated Printed Reports
Testing Facilities for High Pressure Jacks Up To 690 bar
State of the Art Clean Room Facilities
Further to these capabilities, we also offer:
Danfoss Plus-1 Drive Component Testing
Manual, Electric and Hydraulic Valve and Control Testing 
The Danfoss Specialists
Pacific Hydraulics is proud to be Australia's No. 1 Danfoss service and supply centre. As the No. 1 stocking distributor, we are able to supply Danfoss' industry leading hydraulic components at the most competitive prices. Our premier status extends to servicing and repairs on all Danfoss hydraulic components, ensuring that Danfoss components are repaired to stringent quality standards and procedures. This helps to keep your Danfoss hydraulic components performing at their peak for longer, so that you can continue to benefit from Danfoss' reputation for performance and reliability.
Pacific Hydraulics has been providing the highest quality hydraulic products, service and repair to the Australian mining, industrial and mobile hydraulics industries for over 25 years. We are proud to be 100% Australian owned and have a network of branches fully equipped and staffed by our expert technicians to assist you with all your hydraulic needs. Talk to Pacific Hydraulics today to discuss your service and repair needs. Call us on 1800 786 511.