1800 874 916  |  20 Bernoulli Street, Richlands QLD 4077
The Pacific Richlands branch is the company's largest branch, offering sales of hydraulic components, as well as a fully equipped service workshop suitable for both in-house repairs and field service. Previously located in Sumner Park, the branch recently relocated to a newer facility in the Richlands area to further compliment the branch's excellent capabilities. The Richlands branch is well equipped to service the many industries located in the greater west of Brisbane. The workshop has arguable the finest closed loop testing facility in the country with the following features:
260Hp Diesel drive
90 series, 130cc pump
51 series, 250cc bent axis motor
Remote control panel behind safety glass
The Test Rig's Capabilities Include:
Danfoss PLUS+1 drive
Manual, electric and hydraulic controls
Testing open and closed loop pumps and motors to 500bar and 700lpm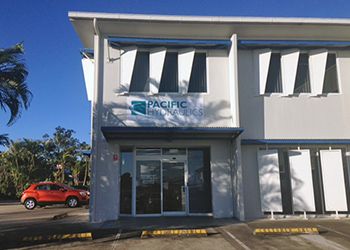 The workshop also has a 75Hp open loop test bench with a 30Hp electric motor driven pump stand. A 5 tonne overhead crane spans the entire 1410m² workshop area. Cylinder repairs are facilitated by our cylinder strip down bench and a large clean room and system diagnostic equipment qualify us for Authorised Danfoss Service Center status.
The site also has a large components warehouse with a counter sales area, with experienced internal sales staff to help you with your hydraulic component selection.
Our Specific Capabilities Include: